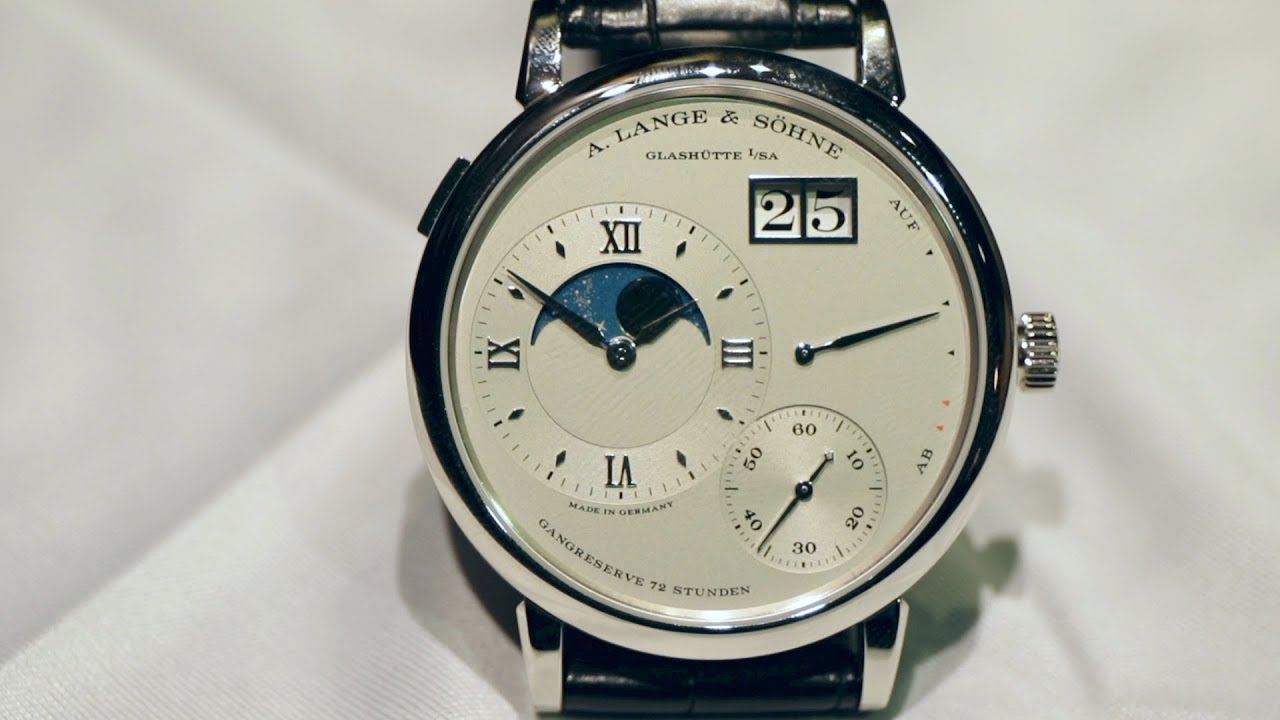 For centuries, watchmakers have integrated the phases of the moon into their timepieces. As a result, they've created some truly remarkable marvels that are as enchanting as they are practical.
However, moon phase watches have a few challenges to overcome. The 29.5-day lunar cycle is one of them, and it's a difficult complication to integrate into a watch.
The mechanism
Mankind's fascination with the moon — its rhythm, orbit, and varying phases — has driven horology for centuries. It's a natural part of our heritage that still influences how we do things today, from scheduling celebrations to sending paychecks.
A moon phase watch tracks the lunar cycle and lets you know if it's a new, full or half moon. It also lets you see which sign the moon is currently in and how long it will last, so you can plan accordingly.
Most watches that feature a moon phase display will display the phase of the moon through an aperture on the dial, and they are typically powered by an automatic or mechanical movement. The difference is that an automatic movement needs you to wind it regularly in order to work, while a mechanical one generates power as it wears on your wrist.
To track the lunar cycle, a watchmaker uses a mechanism that uses a 59-tooth driving wheel that advances the moon disc one notch every 24 hours. That creates two lunar cycles (29 days, 12 hours, and 45 minutes, or 29.5 days, if you're a math nerd).
For greater accuracy, some high-end astronomical moon phase displays use a 135-tooth wheel that guarantees a manual correction once every 122 years, which is the equivalent of a day deviation per owner. That's an impressive achievement for a complication that attracts collectors.
While most moon phase watches tuck the complication into a subdial, Cartier has taken an unusual approach and incorporated it completely into their Ballon Bleu collection. It fully occupies the lower half of the dial and is drenched in lume for a glowing effect.
The asymmetrical design of this watch makes it an interesting choice for anyone who wants a stylish piece with an astronomical complication but doesn't want to break the bank. It's powered by an automatic movement and has a 37mm case that should fit most wrist sizes.
For those who don't mind a little bling, the C1 Moonphase from independent British brand Christopher Ward is a stunning example of a modern, high-fashion moon phase watch. The asymmetrical design is made even more intriguing with a crescent-shaped moon disc that sits directly above the main dial.
The dial
The dial of a moon phase watch shows the phases of the Moon in an aperture on its face. This complication harkens back to an era when watchmakers truly began pushing the boundaries of movement and complications, and it adds a sense of mystery and beauty to any timepiece.
Traditionally, the moon phase was used in clock towers and grandfather clocks, but it soon found its way into standalone watches and even wristwatches as the years passed. Its allure illustrates the enduring fascination with astronomy and its connection to time itself.
It is a highly elemental representation of time that is almost unmatched by other graphical displays, such as the hands and numbers of a chronograph or an annual calendar. It also reveals that timekeeping is rooted in a natural element, which is why it remains one of the most coveted and awe-inspiring facets of watchmaking.
In order to track the moon's movements, a moon phase watch needs a set of gears and a mechanism that mimics the orbit of the moon around Earth. For a quartz-powered moon phase watch, this can be done through visual mimicry; in a mechanical or automatic timepiece, it requires a 59-tooth gear that advances one notch every 24 hours to mimic the lunar cycle.
Some watches even take the moon's rotation into account by displaying the number of days since a new or full moon in increments of 1-29.5 days. This allows users to calculate the number of days that have passed since the last full or new moon without needing to refer to a book, which can be a handy reference point if you aren't familiar with the phases of the moon.
When choosing a moon phase watch, it's important to consider the material the face is made of. The best materials are durable and scratch-resistant like sapphire crystal. Other options include stainless steel and gold.
The case of a moon phase watch is the part of the watch that will most likely wear down, so it's a good idea to invest in a high-quality piece. Stainless steel is a great option as it can withstand a lot of use and damage, while gold and platinum are beautiful alternatives that will never lose their shine.
The hands
The moon is the night's second most prominent celestial body, and its cycle of phases has been a key factor in the lives of people across history. Whether it was the ebb and flow of tides, religious ceremonies or crop harvests, the lunar cycle served as an astronomical calculator that gave people a sense of time and helped guide their daily activities. Countless megalithic monuments such as Stonehenge were used to track the lunar cycle and provide essential information to people in their community.
For many horologists, the Moon phase was a critical measure of time and was one of the first things they tracked in their earliest sundials. And the Moon phase was also a crucial part of the development of clock towers and grandfather clocks.
Today, watchmakers are still giving the moon a fair amount of attention as they design and engineer their latest astronomical complications. And the result is a plethora of eye-catching designs that are sure to excite every fan and aficionado in the know.
Among the most striking of these designs is this moon-phase complication from Frederique Constant. A radial disk reveals slivers of the moon as it rotates, displaying each phase of the lunar cycle in turn and subtly indicating the phases of the moon in both northern and southern hemispheres.
Another example is this day-date/moon-phase timepiece from Baume & Mercier. Its 42-mm case evokes a 1950s dress watch, and its day-date and moon-phase displays are placed in smartly arranged subdials on a lacquered fume dial.
The slender, signature MB&F hand indicates the date and the day of the week, while a central hand shows the current day. The curved hour markers and sword-shaped hands are hallmarks of this collection, but the asymmetrical moon-phase display that occupies most of the top half of the dial adds a touch of flair to the design.
This watch's unusual slew of hands may seem unrelated to the actual moon-phase function, but they do play a critical role in its functioning. The hand pointing to the center of the dial combines a scale for the moon-phase display with a 1 – 31 date scale to offer a convenient and intuitive way to read the time.
The case
A moon phase watch is an elegant and refined timepiece that will help you keep track of the phases of the moon as well as other astronomical events. Typically, these watches are regarded as luxury additions to the watch and are available in a variety of price ranges.
The most expensive moon phase watches have sapphire crystals over their face to prevent damage from scratches. Mineral glass is also a good option but it can be harder to maintain and cannot withstand scratches like sapphire crystals.
Another great choice is a watch made from stainless steel or gold as they are both durable and resistant to wear and tear. These are a great choice for any watch enthusiast and they'll look good with any outfit.
Some of the best moon phase watches are also designed to be more practical, as they can display a wide range of functions such as date, month, day, year and more. They are often on the more expensive side, but they can be worth the extra investment if you're a true horology fan.
When it comes to the case, you'll want a durable and sturdy watch band with a clasp that will securely fasten on your wrist. It's also important to consider the material of the case as a stainless steel or gold watch will not only be more durable but will also be more resistant to wear and tear from everyday use.
As for the dial, you'll want to choose one that is interesting and unique. It should be large enough to show you the phases of the moon in a beautiful and eye-catching way.
Many of the best moon phase watches have a crescent-shaped aperture at 6 o'clock that reveals the phases of the moon. This is a great feature to have in a watch and can make it stand out from the rest of your accessories.
Some of the best examples are available from brands like Raymond Weil, Tissot, Cartier and Rolex. These are some of the most interesting and unique moon phase watches on the market and they will appeal to both men and women.