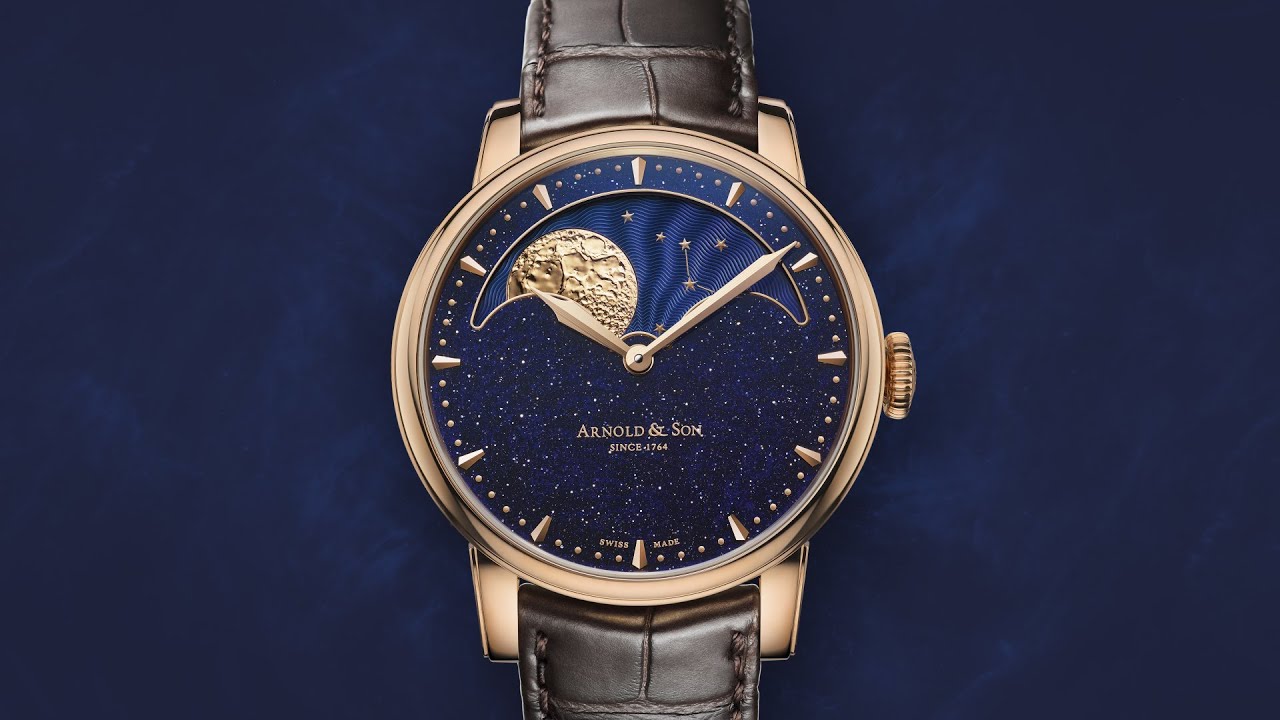 Moon phase watches are among the oldest complication (terminology for features that don't involve telling time) in watchmaking, and while they might not be all that useful on a day-to-day basis, their aesthetic appeal is hard to beat. They're also a great way to add some otherworldly appeal to a dressy watch without having to shell out a ton of cash.
Some brands take the complication more seriously than others, and some go even further than just displaying the moon on a disc. De Bethune, for example, offers a half-palladium and half-flame blued steel 3D moon globe that makes a beautiful statement on a dressy dial.
There are many different ways to display the moon phase, but most of them use a disc with two moons displayed on it to represent the lunar cycle. In most cases, this disc has 59 teeth that advance once per day to make a full moon appear on the dial every 29-and-a-half days.
Almost all moon phase watches have a subdial with an aperture that shows the current phase of the moon. It works by hiding parts of the moon on the disc to make it easier for you to track its progress through the cycle.
It's also important to note that most moon phase watches aren't that accurate, so you'll need to manually adjust them about once every three years if you want the moon to always be in its correct position on the dial. Luckily, there are plenty of affordable options out there that aren't a ton of money.
A Moonphase from Christopher Ward
The C1 Moonglow from British independent brand Christopher Ward is one of our favorite examples of a truly unique moon phase complication. Whereas most moon phases are tucked away in a discreet subdial, this model combines an oversized moon phase display with smoked glass on the face and a tinted sapphire bezel. That smoked glass actually lights up like the moon and stars in the night to create a very interesting effect on the dial.
This watch also features a date wheel for extra functionality. Lastly, it has a very high-quality in-house movement with a week power reserve and a complex wheel train that ensures the accuracy of the moon phase to an amazing 0.23 seconds per day.
Arnold & Son stands out for their moon phase watches, and this model is no exception. Its Perpetual Moon is probably the most iconic moon phase watch in the world, and the new version from this brand takes a different approach by incorporating a real orb that actually displays the moon's phases.
Unlike other more expensive moon phase watches, the Arnold & Son Real Moon Tides doesn't cost a fortune either. It's a very special watch with a lot of craftsmanship, and it's worth checking out for its unique complication.
Another interesting option is the Longines Master Automatic Moonphase which does a pretty good job of packing a high-quality moon phase complication into an automatic watch without breaking the bank. It has a classic look and feel, but it also has a number of pilot watch influences that make it an easy choice for those who want a classic dress watch with a modern complication.
Invicta moon phase watches
If you are looking for an affordable moon phase watch, Invicta has some great options. The brand has a long history of producing high-quality watches and a number of their models are suitable for anyone on a budget.
Fossil FC705S4S6B: This is a great option for those who are looking for an entry-level moon phase watch. The watch has a stainless steel case and bracelet as well as a silver-tone dial with Roman numerals and a date display.
Glycine Combat Classic Moonphase: This is an excellent choice if you are looking for a moon phase watch that is both functional and aesthetically pleasing. This model from Glycine features an automatic caliber GL280 that has a date display and a moon phase indicator. It also has a 40mm stainless steel case and a decently comfortable bracelet.
Certina DS-8 Chronograph Moon Phase: This is another very good watch from Certina that is worth considering. It has a quartz movement and a very nice chronograph design with a moon phase indicator at the 10 o'clock position.
Longines Master Collection: The Longines Master Collection is a relatively new collection of watches from the brand. It offers a variety of styles and is suitable for those who are looking for an entry-level luxury moon phase watch that is both a functional timepiece and a stylish piece.
Frederique Constant Men's FC705S4S6B: The brand is not a household name in the United States, but they are one of the more popular brands in Switzerland. The FC705S4S6B is a high-quality automatic watch that is priced under $5,000 and has a silver-tone dial, case and strap.
Orient Star: This is one of the more affordable automatic moon phase watches you will find. It is available in a variety of colors including a black/blue dial with orange moons that are very eye-catching and it has a very nice power reserve indicator.
Zeppelin Watches: This is a German brand that isn't widely known in the United States, but they produce some incredible mechanical watches. They have a very clean and minimalist look to them that is both elegant and sophisticated.
Citizen Calendrier: This is another great option if you are looking for an affordable moon phase watch that offers a digital moon phase indicator as well as a very impressive day, date, and month function. It is also a very attractive model that would make a wonderful addition to any collection of watches.
Jacques Lemans: This is one of the more affordable luxury Swiss moon phase watches you will find, and it costs around 170 USD. It has a quartz movement and combines the moon phase function with a calendar to provide you with a comprehensive view of the time.
This is a very affordable watch that is designed to be worn on a daily basis and has an automatic movement. It also has a moon phase indicator that is displayed on a digital screen, which is very unusual for this type of watch.
Movado moon phase watches
There's nothing quite like a watch that shows the moon phase, and Movado has some of the most beautiful examples available. These watches are usually paired with a date complication, which is displayed in the upper portion of the dial under 12 o'clock. The moon phase will usually be under the center close to 6 o'clock.
Almost every modern moon phase watch has a window, or opening, on the dial to display the moon's current phase (or waxing or waning). Some of these watches are more complex than others and may also have a radial display, which means that it displays the Moon's shape through the disc's surface.
The most common type of moon phase complication is the bosom, which uses a crescent-shaped aperture to show the Moon's waxing and waning phases. This complication is generally less complicated than the radial variety, which requires a hand to point at the shape of the Moon and move in response to the movements of the movement's hands.
A moon phase watch can either be a mechanical or quartz-powered model. Those with mechanical movement need you to wind the crown up and down to adjust its moon phase complication, while those with quartz-powered movements use battery power.
If you want a moon phase watch without sacrificing functionality, consider investing in a Fossil Neutra Moonphase watch that is powered by a quartz movement and has a user-friendly design. This is a watch that will be very wearable and a solid choice for most wrist sizes.
Another option is the Glycine Combat Moon Phasewatch which is a military inspired field watch that utilizes a moon phase complication. This is a great design that is perfect for someone who wants a military inspired piece but also desires a timepiece with a bit of personality.
In addition to being a great design, the Glycine Combat Moon Phase is also an excellent value for the money. This watch is available in several different styles, including blue and silver-toned models.
The best vintage moon phase watches are the ones that have an elongated style font, similar to art-deco inspired roman numerals, and classic baton markers that make the dial feel restrained but timeless. This is a very appealing look for any woman and it's a style that will never go out of fashion.
Besides looking good, these watches are often made with high quality materials and feature a solid build. You'll want to make sure that you get a watch that is durable and will be able to last through many years of wear.
It's also important to check that the case and bracelet are in a good condition. This is because a lot of these watches are made with thin bezels and can become damaged over time.
Finally, you will also want to check the condition of the movement. The movement should be clean and oiled. It should be running smoothly and not having any squeaks or noises.
Omega moon phase watches
Moon phase watches are a great way to add some horological flair to your collection. These watches are usually less expensive than many other automatic watches and offer some neat features. However, they aren't as popular as their mechanical counterparts so it can be difficult to find one that you like.
Omega is a storied Swiss brand that has always had a strong presence in the watchmaking world. They are also known for producing some of the most coveted timepieces on the market.
The Speedmaster is one of the most iconic watches in the history of watchmaking. It was worn by astronauts aboard all six of the lunar missions and has a long-standing legacy that has been passed down from generation to generation.
This model has an impressive high-resolution moon phase disc that was crafted using a microstructuring technique on a metallic crystal disc that looks as detailed as a NASA photograph. The watch is available in a variety of different materials such as stainless steel and 18K gold.
Zeppelin is a German watch company that isn't as well-known in the United States but is definitely worth checking out. These watches have a lot of vintage features and aviation-inspired themes that make them stand out from the crowd.
They're also inexpensive and highly accurate. They only need to be adjusted once every 10 years and can be accomplished with a few turns of the crown.
Rolex is another storied Swiss brand that makes some of the most classic and sought-after watches on the market. They also have a strong reputation for producing some of the most beautiful moon phase watches in the industry.
The Rolex Moonphase is a beautiful piece that can be found on the secondary market for around $26,750. This watch has a stunning white dial that is adorned with applied rose gold hands and indices.
It's rare to find a pre-owned Rolex Moonphase on the market but they are quite affordable. They typically retail for around $32,000 on the secondary market but can be picked up for as low as $25,750 if you know where to look.
Certina is another storied Swiss brand that has made some very interesting and affordable watches in recent years. The DS-8 C0334501603100 is a fantastic example of this, offering an automatic moon phase along with a date window and a 12-hour chronograph subdial.
Monblanc is another Swiss watch brand that is more conservative than many other brands in the market, but this Star Legacy Moonphase Watch shows off that side of their brand. It comes with a Sellita SW200 automatic movement and a moon phase module by Dubois-Depraz that's housed in a sterling silver case.
This is a fantastic option for anyone looking for an Omega moon phase for a low price point. It isn't as recognizable as the Speedmaster or Professional but it has all the qualities you would expect in a moon phase such as a great design and an extremely accurate mechanism.
Moon phase watches for women
Moon phase watches are the perfect romantic accessory for women who enjoy the romance and sophistication of a well-made timepiece. They're also great for watch collectors and anyone looking for a distinctive aesthetic in their wristwatch.
They're a classic complication, which makes them very appealing to women who are interested in traditional European watchmaking from the 18th and 19th centuries. They also tend to be more affordable than other watch complications, which can make them a good choice for budget-conscious shoppers.
When choosing a moon phase watch, it's important to consider the materials and features that you want. Look for a durable case and a dial that will resist scratches. The best material for a moon phase watch is sapphire crystal, which is more resistant than mineral glass. You'll also want a watch band that's made from durable and sturdy materials like leather or metal.
It's also a good idea to look for a watch that is water-resistant, especially if you plan on wearing it in the shower or pool. This is because water can damage the delicate parts of your watch.
If you're on a budget, there are a lot of moon phase watches to choose from that are inexpensive. This includes quartz models from brands such as Casio, Jacques Lemans, Henry, and Mido that are under 500 USD.
These watches are great if you're looking for an affordable yet functional moon phase timepiece that will last you for years to come. If you're looking for a more expensive piece, however, it's worth exploring the more prestigious options from the world of high-end watchmaking.
Jaeger-LeCoultre offers a stunning women's version of its Rendez-Vous series. It is crafted with 301 blue sapphires that pave the center dial and offer a gorgeous backdrop for the moon phase indication. It has a silver-plated dial that's finished with diamond baguettes and round brilliants and is powered by a Jaeger-LeCoultre in-house movement.
The skeletonized window at six o'clock is a unique feature that adds extra character to the dial and complements the rose gold tone stainless steel body. It's a solid timepiece and the price point is great too, at under $7000 in mint condition.
This is a watch that's incredibly well-built and has a beautiful, clean appearance. Its power reserve display is easy to read, the day and date sub-dials are separate, and the syringe hands and timeless baton markers work well with the minimalist dial design.
There's a nice amount of breathing room on this Fossil watch, which is a sign of a well-made design that will stand the test of time. It's also a good investment for any woman who wants to purchase a piece that will still be in style decades from now.
Buying a watch is a serious financial decision, but it's something that should be done with care. If you're unsure about your budget, there are a lot of great moon phase watches for women that are very affordable.
Moon phase guide